We Offer The

Best

Painting Services With The Fastest Response Time In:
icon_pin_alt icon Alameda
icon_pin_alt icon Albany
icon_pin_alt icon Berkeley
icon_pin_alt icon Castro Valley
icon_pin_alt icon Concord
icon_pin_alt icon Danville
icon_pin_alt icon El Cerrito
icon_pin_alt icon Emeryville
icon_pin_alt icon Hayward
icon_pin_alt icon Kensington 
icon_pin_alt icon Lafayette
icon_pin_alt icon Martinez
icon_pin_alt icon Oakland
icon_pin_alt icon Orinda
icon_pin_alt icon Pinole
icon_pin_alt icon Pleasant Hill
icon_pin_alt icon Pleasanton
icon_pin_alt icon Richmond
icon_pin_alt icon San Leandro
icon_pin_alt icon San Lorenzo
icon_pin_alt icon Walnut Creek and more…
Are you looking for someone to paint your home or property? And not just anyone, but someone who cares as much as you do about getting the job done exactly how you envision it, within a reasonable amount of time, and in a friendly manner?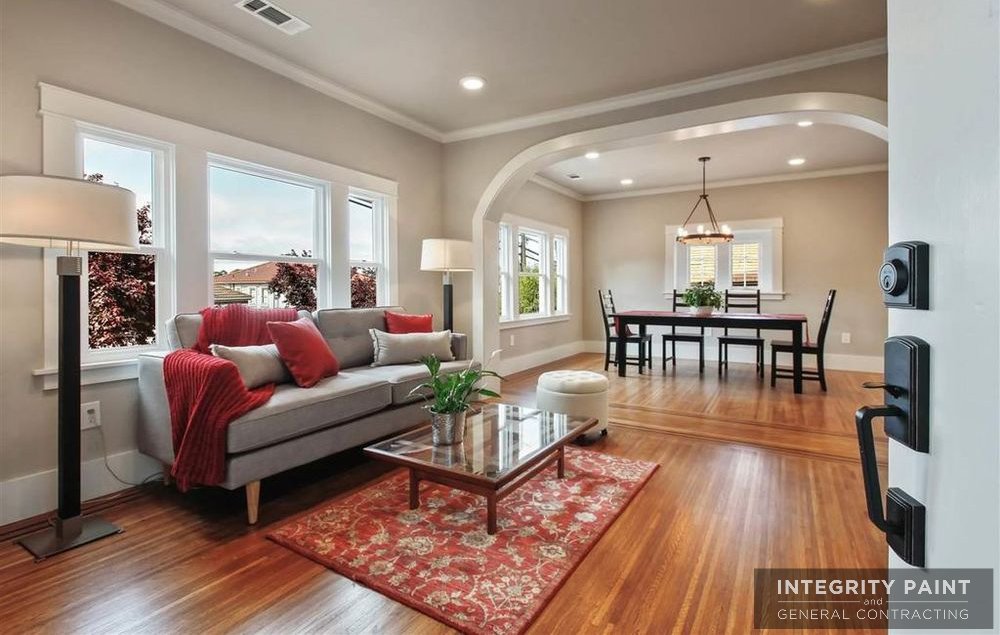 Hi, I'm Benjamin Lins, founder of Integrity Paint & General Contracting. I started this company 20 years ago to bring beauty, function, and stability to public and private property. Caring for someone's property is an extension of caring for them as a person, and that's a really big deal. Whether you work with me and my team or not, I want you to be well-equipped to make the best decisions when it comes to caring for your property. It's what any good neighbor would do right?
Below are some key standards to maintain as you execute your next exciting remodel or restoration: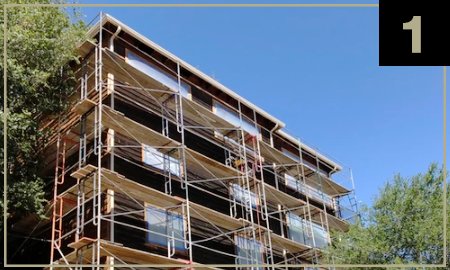 Achieve long-term stability. Ask about each contractor's process for prep work. In painting, prepping the paint site will make or break the long-term satisfaction you experience. Failure to adequately sand and scrape a surface is a recipe for a repaint job right around the corner.
Confirm with your contractor that their paint jobs, and especially their prep work, have stood and will stand the test of time.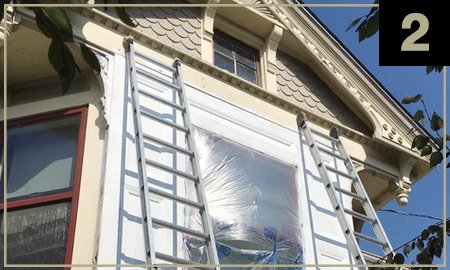 Demand a clean work site. Evaluate the area to be worked on and if there are "at-risk" items or things you are worried about getting damaged, communicate this to any contractors working for you. You deserve to have your property left better than we found it (that's what you pay us for right?), but sloppy, rushed work is a recipe for accidents and you shouldn't have to pay the price.
Emphasizing your desire for a clean, accident-free worksite will help keep this top-of-mind for anyone working on your property. I highly suggest insisting on covering all areas you don't want painted and removing "at-risk" items from the work zone entirely.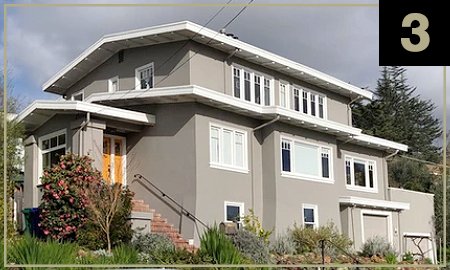 Create something beautiful. At the end of the day, you want your property to have a strong visual appeal. You want it to be beautiful, something that brightens your day and has guests ooh and aah at the Sunday afternoon BBQ. Achieving a beautiful paint job isn't complicated, but you can't cut corners. Make sure to use primer. And ALWAYS use two coats of paint.
This guarantees the correct thickness recommended by the paint manufacturers for longevity, it enables equal application of paint volume when back rolled, and it ensures a consistent color across all facades. Trust me, don't cut corners on these steps and you'll thank me when your paint job remains beautiful for over a decade.
These three standards will keep your projects moving in a positive manner. It's clearly not an exhaustive list. You should also ask about each company's liability insurance, check out online reviews to see what their standard quality of work is across the board, and see if there are specific discounts you can qualify for based on when you book with each company. Most painting companies (us included) will offer "rainy day discounts" and "calendar work-around discounts" to thank you for booking us wall-to-wall with quality jobs, keeping our teams engaged and families provided for.
Property care is personal to me. May we all achieve beauty, function, and stability in each of our endeavors.
There is nothing to say but impressed! Ben came into a difficult working condition with an elderly client and lots of work to do and he absolutely blew me away. Not only was Ben always there working, his team was incredible! They were always early, so kind and so hard working. We needed everything done from the entire house painted to gutters replaced, bathroom vanities installed, every plug and switch in the house updated and all the hardware in the house replaced and Ben and his team did it beyond our expectation! I would use Integrity every time I do a project no questions asked! We got daily updates on what was accomplished and what the following day would look like which kept me and my clients prepared and aware. Ben is a wonderful person to work with!
My neighbor recommended Benjamin to me. I met up with Benjamin twice to go over scope of services (exterior painting, replacing exterior boards, and redoing my backyard fence) before he actually started work. He meticulously walked around my house and pointed out potential trouble spots before we started work. His estimate and his invoice were clear and easy to understand. From the beginning until the end, Benjamin kept in touch with me about status, progress, and additional discovered items that needed attention. His communication skills are outstanding. Ditto for his crew. They were very attentive to my requests. His pricing was very fair as well, as I had obtained two other bids from other contractors. All in all, it was really awesome working with Benjamin. He is serious about his work and he is a consummate professional. I highly recommend him and his crew.
Benjamin just finished my mom's house - he did a fantastic job, was very meticulous and professional. There was a lot of wood rot that he took care of prior to painting. He also did some handyman-type fixits in the interior of her home. Couldn't be happier with the work and the price was fair. Most people throw words around like "integrity" but with Benjamin Lins it really means something. Too bad we can't clone him 🙂
Very happy with the repair, cleaning and staining of our 2 decks, outside doors and windows. One deck was redwood and the other deck, doors and window trim were IPE hardwood that needed special treatment. Ben was very easy to contact and work with, always on time and cleaned up everyday. His bid was very competitive and the work done was very good. Job was finished on time and and no unexpected charges. Would highly recommend Ben and Integrity Paint and Design.
Ben and his team where awesome! I found Ben on short notice and he went above and beyond to accommodate my busy schedule. I choose 5 colors for my space and they where very detailed oriented and did everything exactly how I asked, and then some. I would highly recommend Integrity Paint and Design!
We were referred to Integrity Paint and Design by a very satisfied home owner in our neighborhood who showed us the beautiful outcome this company had provided. The job included painting the baseboards and trim of a large downstairs room, synchronized just before the carpet replacement. This required cutting out strips of wall to wall carpet to gain acces to the baseboard. Two weeks later he and his crew returned to paint the entire main floor, synchronizing the timing with the completion of the sanding and refinishing of the main floor. His attunement to the timing important to us, as we were camping out for over a month in one room of the house.Ben himself was on the job much of the time, showing up on time with his lovely band of young painters, working alongside, directing, and teaching them. The job also included a major ceiling repair. He shepherded his flock to that room and gave a detailed demonstration lesson. The ceiling came out beautifully.The painting of the baseboards and trim, as s well as the main main floor, was excellent.We are on his calendar to return for some small jobs. Refinishing a built in bedroom table, repairing and painting the garden house door, touching up the exterior trim. Perhaps we will find more projects in the future. It's hard not to miss his gentle spirit, guy humor and pervasive warmth.Owner Benjamin Linn certainly warrants the Name of his company. Unless of course he expanded it to Integrity Quality Comic Reliable Friendly Paint and Design.
We recently purchased a home in the Oakland area and I had a lot of cosmetic ideas I needed help with. I first contacted Benjamin for a quote to paint our kitchen possibly a bedroom; I'm a very clumsy painter. After we meet in person I instantly felt at ease. Relaxing we talked for sometime.Benjamin is easy to convey ideas to and knew what questions to ask. Our conversation started to take us away for painting merely a kitchen, but how he could help with the complete yard, fence and deck demo-upgrade. As I spoke he listened and we both grew excited about the project. He was honest and personable through every step.I contacted a landscaping company through HomeAdvisor and was told my budget was too small to be of value for them. After which I contacted few individual professionals prior to our meeting, thinking I couldn't afford one company.Benjamin was honest in assessing my ideas into the wonderful "how much is this going to cost" question. Something the larger landscape company wouldn't even come out to asses.With Benjamin's personality, exuberance and honesty I hired him on the spot.Integrity paint and design took care of Everything (including painting the pesky kitchen and a couple ceilings). There were no surprises, no mistakes and I throughly enjoyed having him and his crew around. Professional, personable, On Time (every single day!!) and funny. I felt like we were the only client. We are hiring them to paint our exterior in the spring. I wish I could hire him for more. I'm looking at a pesky living room 🙂 . I Highly recommend Benjamin and his entire crew. If you have one room or an entire list of ideas, I cannot write enough great things about this company. He just cares. Which is so difficult to find these days.
Ben Lins is a real craftsman in the way he approaches projects. He is very pleasant, positive, and professional He wrote a very detailed bid - listing the price of each of several projects at my home - that made it much easier to compare prices with other contractors. His price was very fair and the work was completed on time without sacrificing quality. Ben made several very useful suggestions to apply the budget more wisely once we got going. He was always on time and kept very informed about each step of the project. I have no hesitation in recommending that you contact Ben Lins at Integrity Paint and Design for your painting project.