For 20 years Integrity Paint and General Contracting has been providing trustworthy and excellent painting and property care. Whether you're looking for excellent house painters and property renovation, or you have commercial projects, our passion is meeting your needs.
With our team, your personal care and property care are paramount. You are not just another project or paycheck. We strive to be sensitive to people's needs and work to make your life better. Your lives and your property matter to us. This influences our conversations and personalities with you, our noise level, our cleanliness, and our attentiveness to bringing unforeseen needs to your attention and going beyond expectations.
Our integrity compels us to do excellent work even in areas that the customer would never observe. Whether it's a nook or cranny, a surface 30ft up on the roof, or applying two coats instead of one, we keep our word and don't cut corners.
We do what we say we're going to do. We show up on time, we communicate throughout the project, and we complete our work in a timely fashion.
While we are exceptional licensed painters, many job sites and clients have additional projects the average painting company cannot attend to. As a licensed general contracting company, we can attend to the full scope of your property needs. On many of our sites that includes repairing or installing interior trim, moldings, casings, doors, cabinets, or installing minor electrical and plumbing (lights, sockets, fans, toilets, vanities).
On the exterior, common general contracting needs are reconstruction from rot or installing new siding, trim, facia, eaves, or doors.
Our goal is your satisfaction and pleasure with your project's outcome. We want you to trust our teams, we aim to please, and we ensure your property improvements go as smooth as possible.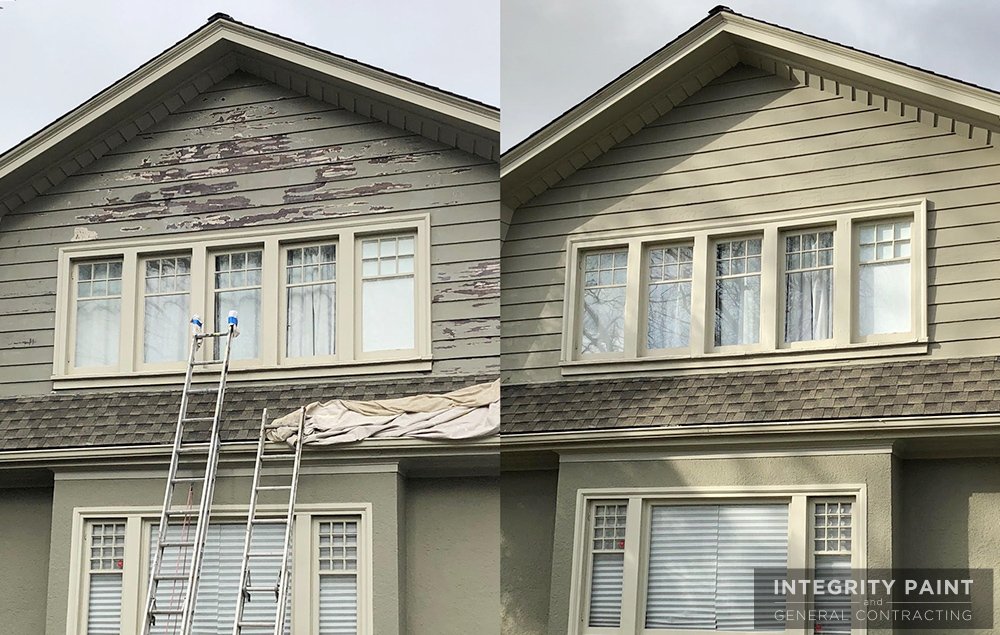 We hire only experienced painters with service-oriented work ethics and growth mindsets who are committed to amazing Customer Care, Quality Work, and a Clean site. Anyone can throw paint on a wall, but when you desire high quality work and top-notch character, our teams are different. When interviewing for staff, they must be Humble in their approach to one another and the homeowner. They must be Hungry, ambitious for work, personal growth, and success in life. They also must be Smart, having a good sense of people's needs and attentiveness to one another on the job site.
We know that your home or property is valuable and an important part of your life.
Your money, time, and the people on your property are affected by these projects and the transition they bring.
We know that it takes trust and sometimes vulnerability to invite strangers to work on these projects in your safe space or critical asset. We know what it's like and want to partner with you in making your goals a reality.
#1-Customer Care
We offer more than just "nice" customer service. We care for you in the process. We listen, ask questions, seek to understand, and offer options. You are not just a paycheck but an important relationship and component of our business. We aim to be sensitive to your needs, clearly understand your expectations, and follow through on what we say we are going to do.
#2-Quality Craft
We understand that our work must speak for itself and that your property needs to last longer and be better because we were there. Our surface prep and end product has to be excellent on every site. We take just as much pride in areas that you might never see as we do with painting a wall that you walk past every day.
#3 Clean Work
Your space is your space. Your space is personal, valuable, meaningful, and not ours to mess up. We aim to work cleanly, and leave your surfaces just as clean or better than how we found them. No drips, drops, damage, or overspray.
#4 Timely
We do what we say we're going to do, when we say we're going to do it, and communicate ahead of time when challenges prohibit this execution.
All of our steps and process are aimed at meeting your needs and expectations; and  we want them to meet our mission of beauty, stability, and function.
This means our prep, protection, and end product are intentional and structured into our culture.
We Offer The

Best

Painting Services With The Fastest Response Time In:
icon_pin_alt icon Alameda
icon_pin_alt icon Albany
icon_pin_alt icon Berkeley
icon_pin_alt icon Castro Valley
icon_pin_alt icon Concord
icon_pin_alt icon Danville
icon_pin_alt icon El Cerrito
icon_pin_alt icon Emeryville
icon_pin_alt icon Hayward
icon_pin_alt icon Kensington 
icon_pin_alt icon Lafayette
icon_pin_alt icon Martinez
icon_pin_alt icon Oakland
icon_pin_alt icon Orinda
icon_pin_alt icon Pinole
icon_pin_alt icon Pleasant Hill
icon_pin_alt icon Pleasanton
icon_pin_alt icon Richmond
icon_pin_alt icon San Leandro
icon_pin_alt icon San Lorenzo
icon_pin_alt icon Walnut Creek and more…